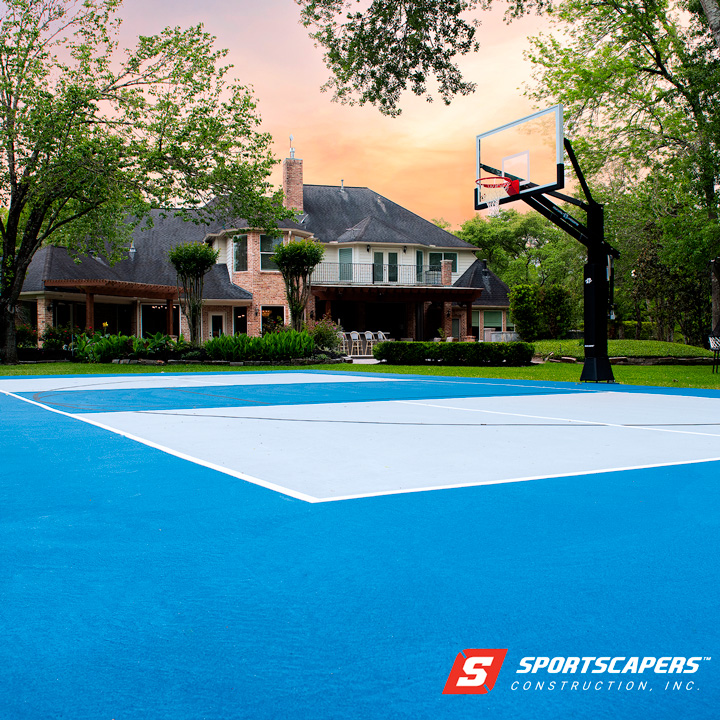 Having a professional-grade basketball court in your backyard can transform your space into a hub of athletic excellence and entertainment. Sportscapers Construction, Inc., a leading athletic design and construction firm operating in Houston, Texas…
Frequently Asked Sport Court Questions
1. How much room do I need to fit a Sport Court® game court in my yard?
Our game courts can be tailored to fit any area, whether you have room for a 20ft. x 20ft. court next to your garage or a full-size 60ft. x 120ft. regulation tennis court. Discover our range of customizable options now to find your perfect fit.
2. What is the time frame to install a court?
The construction process typically takes around 2 weeks, from designing and preparing the site to installing the basketball systems, Sport Court® surface, lights, nets, and containment netting. Our team will clear and level the area, set concrete forms, and finish the slab before installing the system. Once completed, you're all set for years of family fun and entertainment. Contact us today to get started.
3. Are there court accessories available for purchase?
Yes, sportscapers Construction carries a number of accessories for tetherball, hockey, badminton, volleyball, and basketball just to name a few. We are constantly updating our accessory line for additional games and activities. If you have any special requests please ask.
4. May I pick more than one color for my court?
Yes Sportscapers offers 19 available colors that can be mixed and matched. We can also provide any custom color of your choice.
5. Do you offer custom designs on courts?
Make your Sport Court® truly one-of-a-kind with our custom color patterns and designs. Whether you want to showcase your favorite team's logo or incorporate your family crest, our team can paint directly on the court surface for a lasting and permanent design. Personalize your Sport Court® with your own unique style and let us bring your vision to life. Contact us today to learn more about our custom design options.
6. If a tile becomes damaged, how difficult is it to replace?
Sport Court® flooring is easily replaced or repaired if a module is damaged. Simply remove the damaged module with a putty knife and replace with a new one. It's a snap with our patented interlocking flooring system.
7. How expensive is a game court?
Every court is customized to fit your needs and budget. Our team will offer several options to pick and choose from which will determine the price of your court. Please contact us directly for more answers on pricing.
8. How do I maintain my court?
Durability and ease of maintenance are two qualities your Sport Court® game court exemplifies. The open surface design allows water, dirt and debris to be washed away through the underside of the flooring surface. A hose or pressure washer works to remove most of what you will encounter on your court. A leaf blower or even a broom will work very well in removing leaves and grass clippings from your court.
9. Why should I choose Sport Court® Flooring?
Our patented Lateral Forgiveness™ provides safety for children and adults in reducing the risk of injury. Sport Court® game courts can be utilized for year round entertainment and recreation. In colder climates simply clear off the snow and/or flood your court for winter games.
Sport Court® of Houston's Sports Flooring and Athletic Surfaces FAQ
1. What is the "Climate Control" criterion for your flooring?
Sport Court® sports flooring does not require HVAC monitoring or humidity controls.
2. Will our investment be cost-effective?
Compared to wood, synthetics and other sports flooring options, Sport Court® provides the best performance at a low cost along with minimal maintenance expenditures.
3. If we have water concerns will the floor be damaged?
Your Sport Court® floor will not flake, peel or blister due to water damage caused by leaking roofs, broken pipes or flooding.
4. Are any checmicals used in the installation process?
We do not use any toxic chemicals that are poured or glued in place. Our floors are environmentally safe and lock together for ease of installation.
5. What colors do you offer?
We carry numerous colors to complement your facility. We can also match most custom colors.
6. What makes Sport Court® flooring different from others?
Sport Court®'s suspended flooring, along with our patented Lateral Forgiveness™, reduces injuries to ankles, knees, lower back and shins.
7. How long does it take to install a floor?
Every Sport Court floor is installed to your facility's specifications by our factory-trained certified professional installers. Depending on size, we complete your installation in less than 4 days.
8. What is the longevity of the floor?
Some facilities have had the same Sport Court® floor for 15 years. Contact us for warranty information.
9. Does Sport Court® have any safety features?
A Sport Court® surface is designed with vertical-give to provide cushion for developing children and athletes, unlike hard unforgiving surfaces.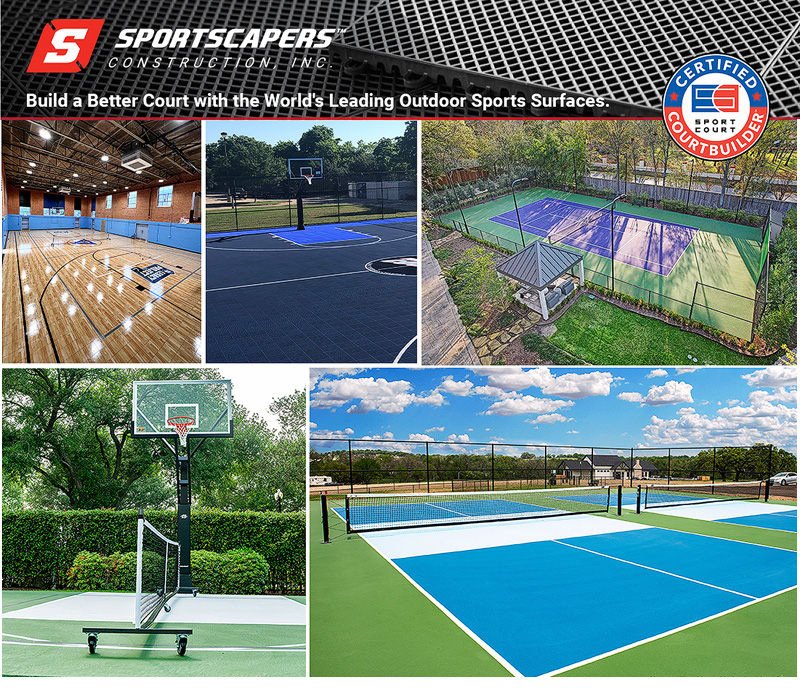 Sportscapers Construction Inc. is an Athletic Design Firm that specializes in creating and constructing athletic facilities for commercial and residential clients. The leading sports construction company in Houston Texas.
Phone: (281) 213-3311
Email: [email protected]
1614 Center St, Houston, TX 77007