Want to build an Indoor or Outdoor Batting Cage?
Building a batting cage can be an excellent investment for anyone who is serious about improving their baseball or softball skills. However, before you start constructing one, it is essential to plan carefully and make informed decisions to ensure the success of your project. This is where Sportscapers comes in to assist with your batting cage construction needs.
Whether you're building a residential batting cage in your backyard or planning to set up a commercial range, Sportscapers offers end-to-end professional construction design plans that can be customized to your budget. Here are some of the reasons why you should trust Sportscapers to help you with your batting cage construction project:
Expertise and Experience: Sportscapers has years of experience in designing and constructing batting cages for both residential and commercial use. The company's team of experts has worked with clients of all sizes and budgets, ensuring that each project is tailored to the client's unique needs and requirements.
Customization: Sportscapers knows that every client has different needs, and that's why they offer customized solutions that can be tailored to your budget. Whether you want a simple batting tunnel setup or a full-scale commercial range, Sportscapers can help you design and build a batting cage that meets your needs and fits within your budget.
Professionalism: Sportscapers takes pride in providing high-quality services to its clients. The company's team of professionals is committed to delivering projects on time and within budget, ensuring that clients are satisfied with the end result.
Equipment and Materials: Sportscapers uses only the best equipment and materials to construct their batting cages. This ensures that the cages are durable, long-lasting, and safe for use. They offer different types of batting cage nets such as nylon netting, polyethylene netting and vinyl coated polyester netting, and will advise you on the best option for your project.
Safety: Safety is a top priority at Sportscapers. They ensure that all of their batting cages meet safety standards, ensuring that clients can enjoy using their batting cages without worrying about any Injuries.
Tell us about your facility and your batting cage project and our team of experts will make sure it's done the way you need. Contact us to get your free estimate today.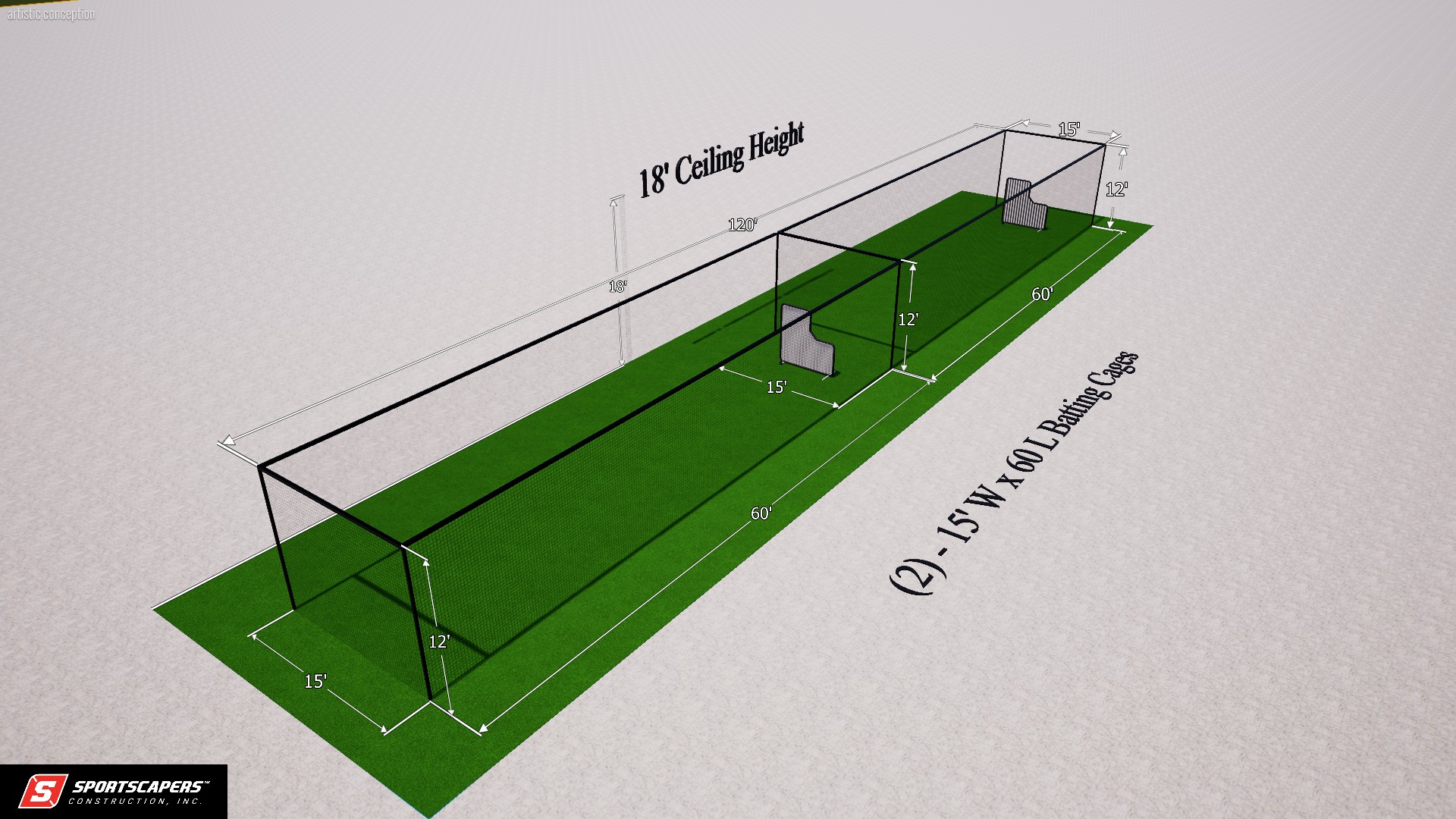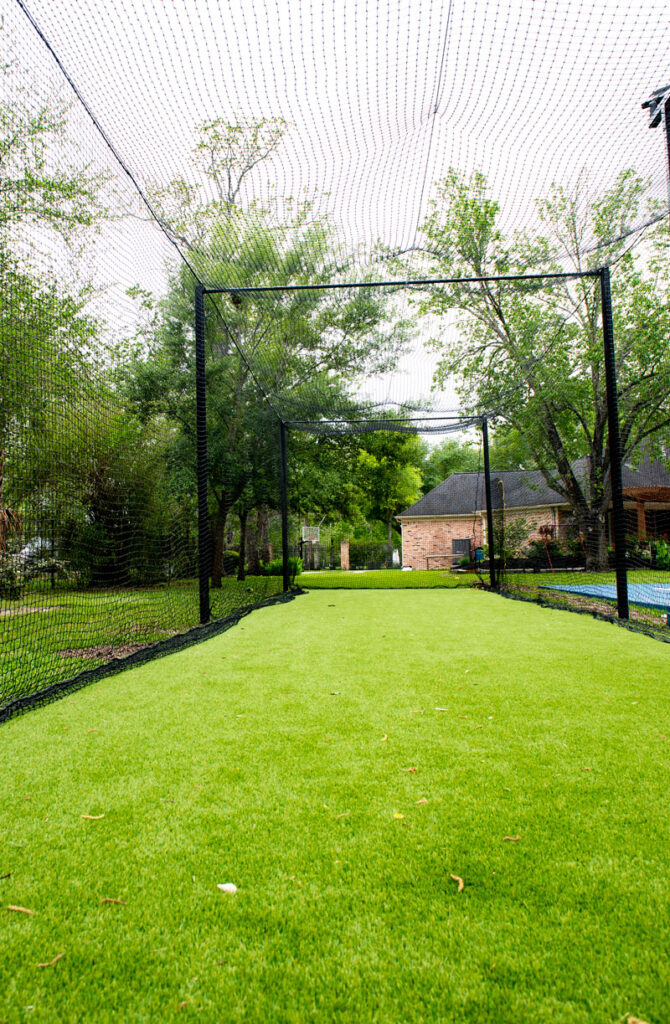 Simple To assemble Connect the reach pole, lay out your net hoist, and lock the halyards and your hitting.
The standard size is 14'W x 14'H.
Size of 70'Lx14'Wx14'H (baseball)
Size of 55'Lx14'Wx14'H (Softball)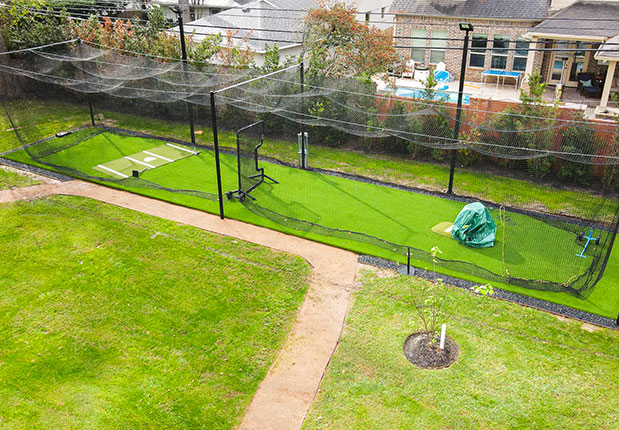 Heavy -duty Schedule 40 steel upright, cables and premium uv-treated nets.
Premium batting cage net is suspended between the poles while the tenex top cables are tensioned by our winch and cables units
Standard size is 14'W x 14'H.
Size of 70'Lx14'Wx14'H (baseball)
Size of 55'Lx14'Wx14'H (Softball)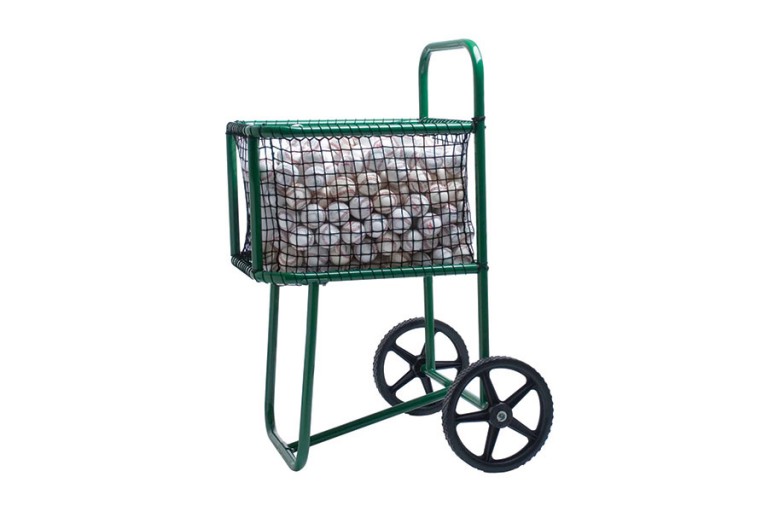 Baseball and softball players require practice to perfect their swing. But, they face the problem of not having access to the batting cage to practice regularly. Therefore, many homes are now opting to have a batting cage in their own backyard. Having your own batting cage is one of the best way to enhance your swing. It also provides an opportunity to your kids to play as per their schedule.
Various manufacturers of sports facilities now develop them such that they can be installed in the backyard, so it's easy playing any sport at your home. You can have a tennis court, a basketball court, even a putting green in your premises! Installation of any type of facility impacts your game positively.
Before you decide to install a batting cage in your backyard, it is beneficial to have an understanding of different types of batting nets and select the one that best meets your needs.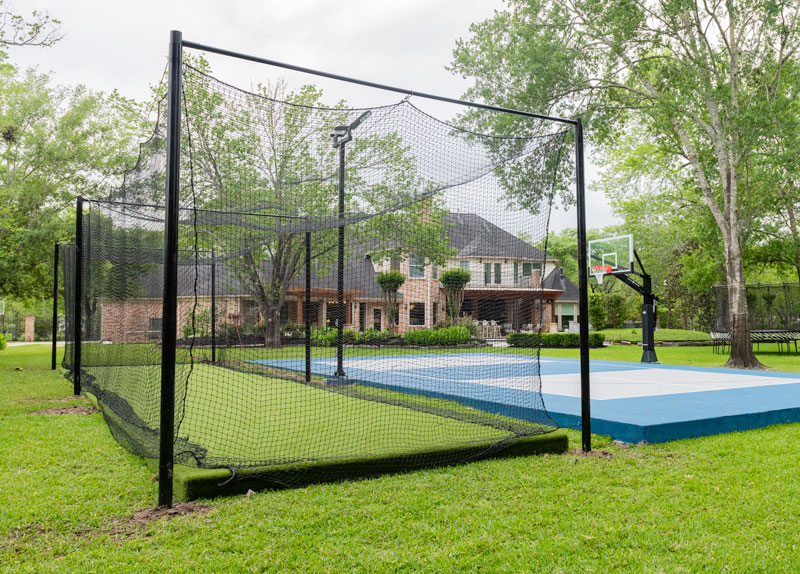 • The most basic type of batting cage is the one that is non-automated. The flooring is flat and even. However, the main drawback of this type is that the balls hit by the batter get collected in the cage. The players need to keep picking up the balls. 
• Then there is the automated type of batting cage in which the floor is sloping. In this case, the flooring is such that the balls roll down the slope making collection easy.
• The next type is a blend of automatic and mechanical. In this case, the floor slopes, and the balls roll down it. All the balls are collected by a conveyor and placed in a pitching machine that pitches the balls. However, this is a pretty expensive option.
After you decide on this, you will need to decide the purpose of your batting cage. You'll have to decide whether the purpose is softball or baseball practice. Softball batting cage uses a light material for making the net as it is usually meant for children.
But for serious baseball playing, you'll need baseball netting made of a more sturdy material that can bear the impact.
Batting cages are also available in fixed or portable options. The portable ones are easy to install and disassemble. However, irrespective of the type of batting cage you use, you will need to protect it from ice and snow. You will need to disassemble the batting cage in harsh weather.
Quality batting cages are manufactured by Sportscapers for indoor/outdoor installation.
Sportscapers will custom design a batting net for you to hone your skills and become a champ!
Sportscapers Construction Inc. is an Athletic Design Firm that specializes in creating and constructing athletic facilities for commercial and residential clients. The leading sports construction company in Houston Texas.
Phone: (281) 213-3311
Email: [email protected]
1614 Center St, Houston, TX 77007